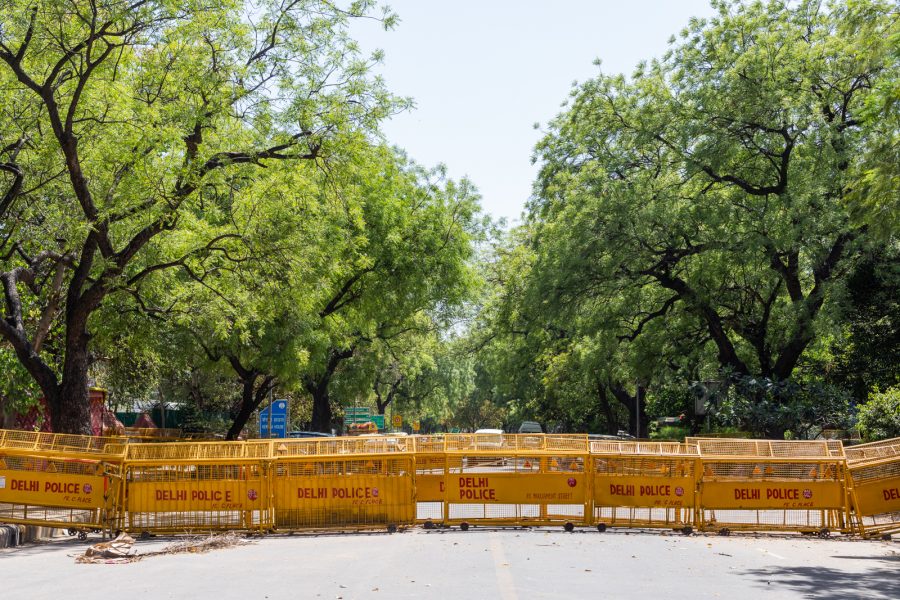 Onward to Delhi.
Jantar Mantar is where India goes to protest. A 500-metre section of road, which borrows its name from an adjacent 18th-century astronomical observatory, is Delhi's designated protest site.
Since 2016, I have been interviewing and photographing protestors who come here from across the country. Some seek justice for themselves or for their own. Some stand in solidarity with strangers whose problems they identify with. Others demonstrate against government policies. There are men and women who made the wide footpaths their home for years, living out of tents weatherproofed with discarded protest banners. They vow not to return until justice is delivered; sometimes there is no home to return to. Many more undertake journeys of more than a day each way, only to protest for a few hours, and head back. Often, it is their first and only trip to the city.
A police officer does the rounds every morning, noting down the day's issues. He sometimes takes protesters in his own jeep to the government office concerned, where they are helped to file petitions. When the protesters try to cross the barricades on either side of the space or get violent, they are bundled off to the Parliament Street police station in the same jeep. Slogans are often raised in languages alien to everyone else present. People with opposing viewpoints exchange cold and angry stares as they go about their own protests, but they never come to blows.
In October 2017, India's National Green Tribunal banned all protests at Jantar Mantar after some residents of the neighbourhood complained about the noise and crowds. All long-time protest camps were dismantled and many protesters were sent packing. Protests have since resumed after another ruling, but are now confined to a 150-metre stretch. Long-term protests are no longer allowed and protesters are expected to vacate the space by 4pm. The space for dissent in India has literally shrunk, and I have seen it happen with my own eyes.
Santosh 'Murat' Singh (35)
Chittauni, Varanasi, Uttar Pradesh.
In the year 2000, Singh met a Bollywood actor shooting near his village and went on to join his personal staff in Mumbai. He fell in love with a Maharashtrian Dalit girl and married her, which led to a social boycott in the village in 2003. Six months later his relatives gave an affidavit to the local authorities stating that he had died in a bomb blast. They performed his final rites and took possession of his 12.5-acre patch of land. He has been fighting ever since, holding a placard that says 'I'm still alive'.
October 26, 2016.
Kandaswamy Ramalingam (36)
Katayambatti, Tiruchirapalli, Tamil Nadu.
For close to six weeks, a 100-odd farmers from Tamil Nadu sat on protest at Jantar Mantar in New Delhi, demanding drought relief funds, waiver of farm loans and the setting up of a Cauvery Management Board. They made headlines for using bizarre props like skulls–which they claimed were of farmers who had killed themselves because of mounting debt–and theatrical acts, including shaving off half their beards and moustaches, drinking urine, cutting their palms, and eating mice. When the Prime Minister couldn't find the time to meet them, they stripped naked in front of his office. Many suffered different degrees of heatstroke and some were forcibly sent back by their leaders after their health began to fail.
April 9, 2017.
Gajadhar Singh (58) and Ranju Devi (45)
Jihuli, East Champaran, Bihar.
Frustrated with the current political dispensation, Singh and Devi hope to become the Prime Minister of India and the Chief Minister of Bihar, respectively, so that they can bring about change.
April 9, 2017.
Sandeep Anand (33)
Delhi.
Anand, who sells wallets at Sarojini Market in Delhi, winds up after selling 15-16–just enough for his daily bread–and heads over to Jantar Mantar. The horrific gangrape in December 2012 in Delhi of a 23-year-old victim referred to as 'Nirbhaya' shook him to the core. He has been demonstrating every day since, demanding stricter laws and punishments that deter rape and other atrocities against women.
January 21, 2017.
Priti Srivas (40)
Bhopal, Madhya Pradesh.
Srivas, who runs a beauty parlour, was at a rally mobilised by SAPAKS- Samany Pichada evam Alpasankhyak varg Adhikari Karmachari Sangh party, which demanded the doing away of caste-based reservations and repeal of the SC/ST Atrocities Act.
December 1, 2019.
Venugopal NarayanRao (62)
Bengaluru, Karnataka.
An employee of State Bank of Mysore and vice-president of All India Bank Employees Union, NarayanRao was part of a protest called for by State Sector Bank Employees Association against a government plan to merge five associate banks with State Bank of India.
October 26, 2016.
Amarjeet Singh (21)
Delhi.
Singh was at a demonstration that called for 17 districts of neighbouring Uttar Pradesh to be included in the national capital to form 'Greater Delhi'. Speakers argued that Uttar Pradesh is a large state with a population of 25 crores, the size of which hinders development, and that splitting it into smaller states will enable better governance and delivery of welfare schemes.
December 2, 2019.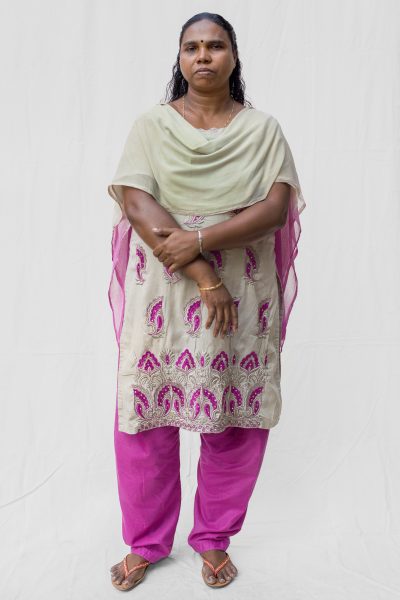 Mable Nasians (42)
Pulluvilla, Trivandrum, Kerala.
Nasians joined fishermen from other coastal states to protest the centre's Sagarmala project, which seeks to promote large scale industrial areas and ports along coastal areas. She has also demanded that foreign trawlers, which deploy heavy nets that trap fish of all sizes causing loss of livelihood for traditional fishermen, be not allowed in Indian waters.
November 21, 2016.
Vrishali Shruti (23)
Kurukshetra, Haryana.
Associated with the Disha Chhatra Sangathan, Shruti attended a protest by Bigul Mazdoor Dasta, against a court verdict that had convicted 31 employees of car manufacturer Maruti Suzuki, including 13 on charges of murder of an HR manager. Violence erupted at the company's Manesar plant on July 18, 2012 following disciplinary action against an employee, resulting in a casualty and injuries to 100.
April 7, 2017.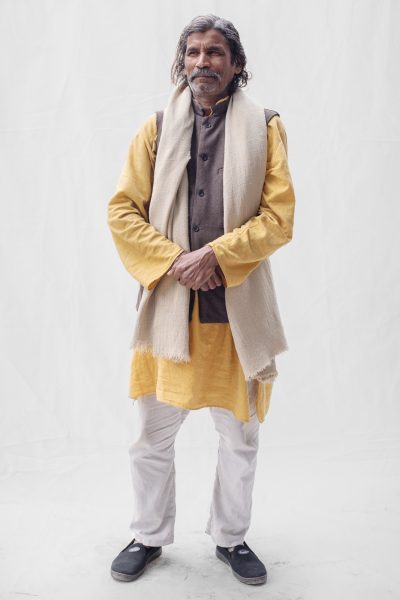 Ram Shankar Ojha (60)
Ghaziabad, Uttar Pradesh.
Ojha, who retired from Indian Oil, is associated with the Bharatiya Gauraksha Kranti, which demands a complete ban on cow slaughter in India and allocation of 5% of available common land in every village for cattle-grazing purposes. He used to bring some cows along with him to the protest site earlier, but the municipal authorities would move them to a cow shelter and Ojha arrested by the police for obstructing them. Once released from the police station the next morning, Ojha would proceed to get his cows released and head once again to Jantar Mantar. The cycle continued for many days, but Ojha eventually got tired of it and walks alone to the site now.
January 21, 2017.
Machhindranath Suryavanshi (65)
Nilanga, Latur, Maharashtra.
Suryavanshi says he launched his 'Akhil Bharatiya Joota Maaro Andolan' in 2006 after revenue officials demanded a bribe to regularise his land records. He has been living at Jantar Mantar ever since, helping people to write petitions to concerned officials, with an added threat to hit them with shoes if they don't solve the problem.
April 8, 2017.
Tamilselvi (35) and Meena (23)
Delhi.
Both Tamil-speaking domestic workers in Delhi, demanded further categorisation of Scheduled Castes into groups in accordance with each group's relative backwardness and proportion of population.
April 7, 2017.
Jaswant Singh Janpangi (58)
Didihat, Pithoragarh, Uttarakhand.
Janpangi, a former constable with the Indo-Tibetan Border Police, claims to have quit his job to fight corruption. He says he fights for the rights of the Raji tribe, a Particularly Vulnerable Tribal group of whom only 690 remain as per the 2011 census. Janpangi had been living at Jantar Mantar since 2011, trying to secure justice for two tribal youth who were tried as adults for a crime despite being minors.
April 8, 2017.
Ramesh Kumar Saxena (52)
Delhi.
Saxena joined the Delhi Police as a home guard in 1986, but was removed overnight along with many others in the year 2000. Home guards unceremoniously terminated from service between 1991 and 2001 were appealing to the government to reinstate them and to guarantee employment till the age of 60.
December 1, 2019.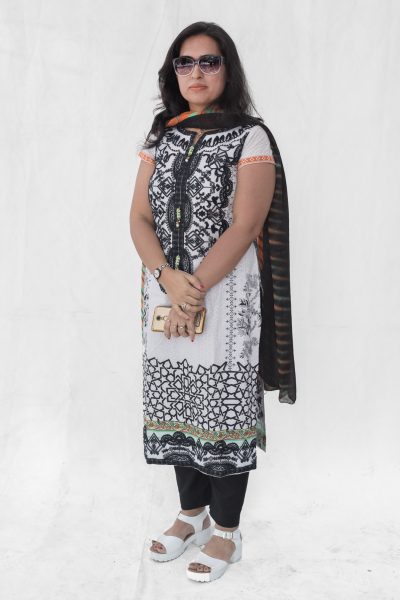 Priyanka Rana (39)
Faridabad, Haryana.
Rana joined a protest called for by the All India Parents Forum for Education, demanding the rollback of unreasonable fee hike and several illegal charges imposed by private schools in Delhi.
April 9, 2017.
Tarachand Mendhe (61)
Nagpur, Maharashtra.
Mendhe represented the Humanism Foundation, which wanted the Army to immediately withdraw its plans to shift the 118 Infantry Battalion Territorial Army unit from Nagpur to Bhusawal. The shifting of the unit, established in 1939, could mean the loss of 600 jobs as the unit recruits part-time soldiers from the region.
December 1, 2019.
Shankar Ganeshan (32)
Delhi.
A Tamil with roots in Madurai, Ganeshan was at Jantar Mantar to protest against a Supreme Court-imposed ban on the traditional bull-taming sport of Jallikattu in Tamil Nadu. The order had led to mass protests across the state, forcing the state government to issue an ordinance to allow Jallikattu events to be held.
January 21, 2017.
Meena Khan (45)
Noida, Uttar Pradesh.
Khan has been working on contract basis at a nursery operated by the Noida Development Authority for the past 25 years. She came with her colleagues demanding regularisation of services, an ID card, salary hike, health benefits and provident fund.
October 26, 2016.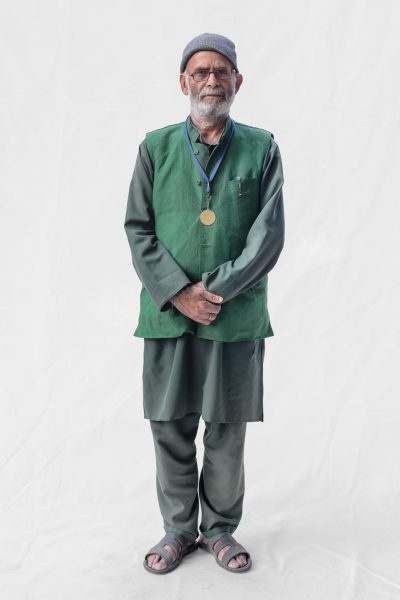 Kesari Shashi Kumar (51)
Doda, Jammu and Kashmir.
Kumar was once turned away from a government job by an officer who told him to go do farming. Over the next 40 years, he planted over 530000 saplings, an effort that was recognised by the state government and awarded. Kumar however claims his efforts to take up human rights abuses cases led to targeted harassment from local police. While at Jantar Mantar he pulls out nails from trees in the vicinity.
January 22, 2017.
Uma Sharma (46)
Delhi.
Sharma, a former teacher, demanded an inquiry to probe the suspicious death of Rajiv Dixit, an aide of the Yoga guru and co-owner of the Patanjali ayurveda brand, Baba Ramdev, on 30 November 2010. Dixit founded the Azadi Bachao Andolan (Save Freedom Movement) in the 90's to protect Indian companies from the threat of globalisation, and was also the national secretary to Bharat Swabhiman Andolan, an organisation founded by Ramdev to fight corruption and promote indigenous industry.
November 30, 2019.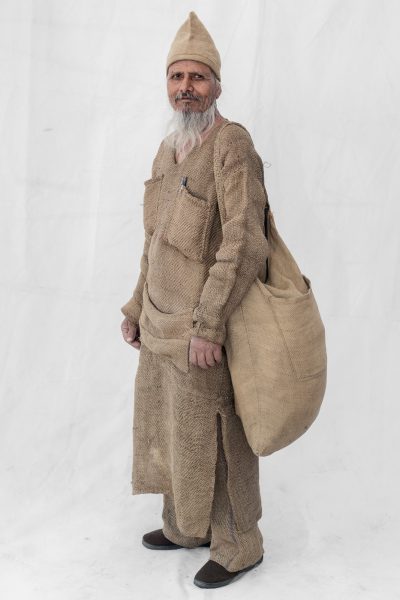 Shivlal Tatdhari (65)
Kuloth Khurd, Jhunjhunu, Rajasthan.
Tatdhari, who retired from Hindustan Copper Limited, is a staunch follower of the Indian freedom fighter 'Netaji' Subhash Chandra Bose. Bose had disappeared under mysterious circumstances in 1945 and is believed to have been killed in a plane crash in Taiwan. Tatdhari however believes he is still alive and wants the Indian government to investigate and make the facts of his disappearance public. He travels to Jantar Mantar every couple of months to stage a sit-in.
April 9, 2017.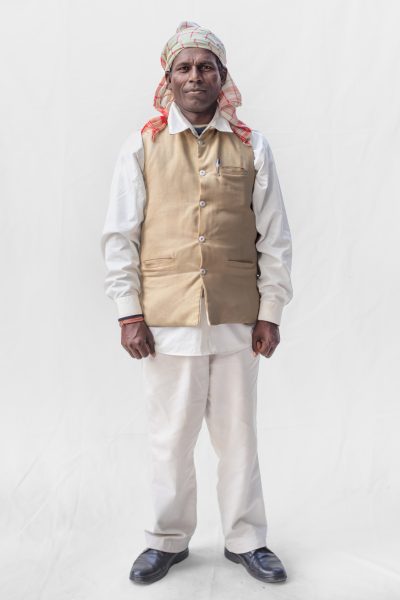 Mahadev Mukhia (45)
Bihdubi, Nagaon, Assam.
Mukhia, who worked at a sawmill and later as a driver, claims a neighbour burnt his house down in 2007 when he was away visiting his daughter. As none of his other neighbours were ready to testify against the person, Mukhia is now in Delhi pleading for help. He wants the government, which could not give him justice, to provide for a shelter, food and his kids' education.
January 22, 2017.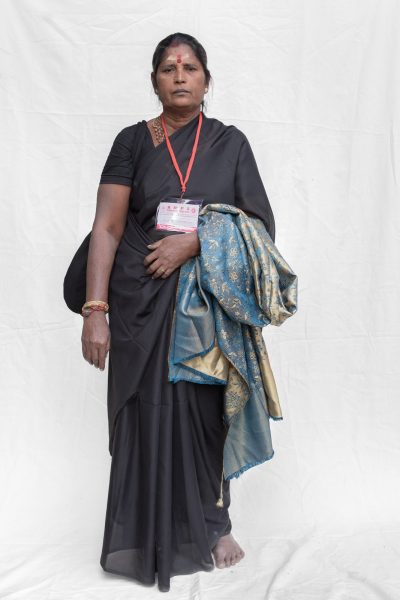 Kalaiselvi (56)
Chennai, Tamil Nadu.
Kalaiselvi, who goes by a single name, was part of a protest called for by National Mazdoor Panchayat Sangam, against the central government's proposal to merge 44 labour statutes into four labour codes. The protestors say this could lead to either the deletion or substantial dilution of fundamental trade union rights, benefits and facilities including Safety, Health and Social Security.
December 2, 2019.
Ravi Nitesh (35)
Delhi.
A petroleum engineer by profession, Nitesh felt strongly about the growing number of mob lynchings and attacks in the name of cow protection. He was part of a protest that happened in the backdrop of the murder of Pehlu Khan, a 55-year-old dairy farmer from Nuh in Haryana, by a group of 200 cow vigilantes on April 1, 2017, in Alwar, Rajasthan.
April 9, 2017.
Saurabh Kumar Singh (33)
Khettapatti, Azamgarh, Uttar Pradesh.
Singh injured his foot at a stone crusher he was employed at in Mirzapur, but was denied free healthcare as he was a contract employee. Unable to afford surgery, he chose to protest in Delhi instead. Walking about with a plastered foot, he raised slogans against the state government all day through a megaphone that he had bought for the purpose.
February 12, 2017.
Sameer Singh Rathi (58)
Sonepat, Haryana.
A doctor by profession, Rathi travelled to Jantar Mantar to extend support to the godman Sant Rampal, who had been sentenced to life imprisonment for the murder in 2014 of two women and an infant at his ashram in Barwala, Haryana. Prior to his arrest in 2018, over 20,000 policemen had to be deployed to gain access to the ashram as his followers blocked access. He was arrested later along with more than 900 of his followers, on charges including sedition, murder, attempt to murder, conspiracy, hoarding illegal weapons and aiding and abetting suicide-mongers.
April 10, 2017.
Deepmala Nandan (36) and Vijay Nandan (38)
Seoni, Madhya Pradesh.
The Nandans own a battery manufacturing unit, but a trademark has been denied to them as the name resembles that of a well-established battery manufacturer's. They hoped to convince the Office of the Registrar of Trademarks in Mumbai to issue a trademark.
December 2, 2019.
Rama Indra Kumar (66)
Lakhisarai, Bihar.
Kumar, who holds a PhD in literature from Delhi University, had been sitting on hunger strikes periodically for 23 years now, usually for 24-48 hours, hoping to change the system and to build a new socialist polity that cares for the poor and oppressed.
November 29, 2019.
Nancy Kaul (60)
Delhi.
A Kashmiri Pandit who had been forced to leave the valley, Kaul was at Jantar Mantar on the anniversary of the signing of the Instrument of Accession by Maharaja Hari Singh, to demand home rule in Kashmir without Article 370. She wants to move back to Kashmir with 'One Flag, One Rule.'
October 27, 2016.
Bindiya(19)
Delhi.
A student of pharmacy, Bindiya, who goes by one name, joined pharmacists from across the country in opposing the changes proposed under the Drugs and Cosmetics Rules, 1945, which will allow community health workers, accredited social health activists, nurses and midwives to prescribe drugs.
November 29, 2019.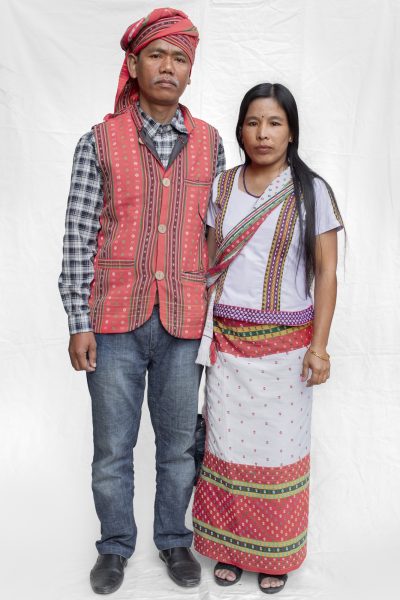 Subiram Debbarma (49) and Sunita Debbarma (38)
Khumulwng, West Tripura, Tripura.
The Debbarmas travelled over 1,750 km to attend a protest by the Indigenous People's Front of Tripura. Demands were raised to create a separate state of Tipraland for indigenous Tipris, to implement the National Register of Citizens while rejecting the Citizenship Amendment Act, and to resolve the longstanding Bru-Reang rehabilitation issue, among others.
December 02, 2019.
Manoj Jha (50)
Delhi.
An activist associated with the Maithili Shikhsha Sangharsh Samiti, Jha sat on an indefinite hunger strike demanding the introduction of Maithili language, spoken by about 20% of Delhi's population, as an optional subject for classes 8-12 in government schools in the city.
December 1, 2019.
Ali Mohammed (64)
Asara, Baghpat, Uttar Pradesh.
A contractor by profession, Mohammed attended a demonstration by the All India Muslim Jatt Conference that appealed to the Muslim community to not demand dowry and to ensure education and property rights for girls. Demands were also raised for reservations for Jatt Muslims and to stop foisting false terror cases against Muslims.
February 12, 2017.
Jagjit Kaur (35)
Siahar, Ludhiana, Punjab.
Kaur had been sitting on protest at Jantar Mantar since January 2013, demanding punitive action against a high-ranking police officer from Punjab whom she accuses of raping and threatening to kill her. The incident happened in 2010, she says, when she approached the police in Sangrur, Punjab seeking action against a man who hadn't paid back the Rs. 40,000 (approx. USD 560) she loaned him.
A tent at Jantar Mantar became her home. In RTI requests, she even listed her address as Camp No. 7, Jantar Mantar. She later filed a petition in the Supreme Court challenging the National Green Tribunal's orders to vacate Jantar Mantar. "I will die, but I will not leave Jantar Mantar until I am given justice," she told the media.
April 7, 2017.
Sanjiv Kumar Singh (35)
Delhi.
A social activist, Singh, decried a plan to replace the statue of freedom fighter Chandra Shekhar Azad in Bhopal with that of former Chief Minister Arjun Singh.
December 2, 2019.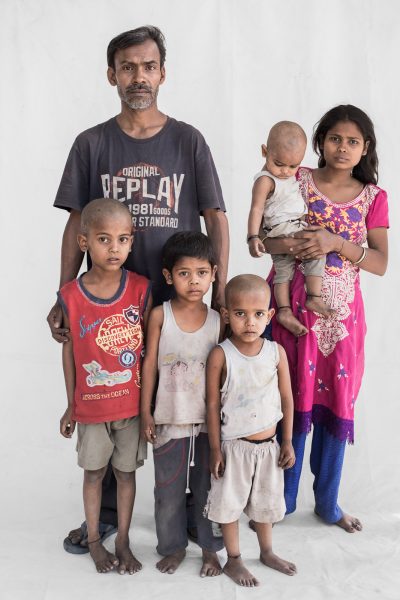 Dilip Shah and Kiran Devi (both in their 30s)
Howrah, West Bengal.
According to the couple, men related to the labour union leader of a jute mill where Shah was employed barged into their house while he was away at work, molested Devi and tried to rape her. The police initially refused to file a First Information Report on the incident that took place in February 2015, but later registered a case upon pressure from the media. Shah ended up losing his job and the family was forced to flee to Delhi in September 2015. A man on the street guided them to Jantar Mantar, which became their new home. After moving here, the couple has had a child, a baby girl they have named Jantri.
April 8, 2017.
Vishwanath Agarwal (64)
Barrackpore, North 24 Paraganas, West Bengal.
Agarwal was at a sit-in organised by the All India Fair Price Shop Dealers Federation, which demanded better margins for grains, pulses and other food items supplied through the subsidised Public Distribution System, so as to ensure a guaranteed minimum monthly income.
December 2, 2019.
Raghavendra Dubey (27)
Lakhanguwan, Chhatarpur, Madhya Pradesh.
Dubey, a merchant, came to Delhi on some other work, but when he figured that he's got a few hours before his train, came to Jantar Mantar to protest against the agents at the local Aadhaar biometric enrollment centre in his village charging people anywhere between Rs.100 (approx USD 1.4) to 200 (approx USD 2.8).
January 21, 2017.
Colonel Dilbag Dabas (66)
Gurgaon, Haryana.
Col. Dabas came in support of other members of the armed forces who have been protesting at Jantar Mantar demanding the implementation of 'One Rank, One Pension'– same pension, for same rank, for same length of service, irrespective of the date of retirement.
January 22, 2017.