Aftermath of Green Revolution in Punjab, India

In the 1960's, India had launched an ambitious program called the Green Revolution to reverse years of food scarcity and do away with its dependence on PL-480 food aid from the US. Technology-driven agriculture was introduced and farmers were provided hybrid seeds, fertilizers and pesticides to help them produce more. In the northern state of Punjab, which was yet to recover from the brutal wounds of partition in 1947, farmers took to farming with renewed vigor. The state's wheat production went up from 1.7 million tons in 1960-61 to 15.5 million tons in 2000-01 and Punjab, whose name means the land of five rivers, came to be known as the food bowl of India.
However, the ecological and economic costs of the Green Revolution soon outweighed its benefits. Heavy reliance on fertilizers to boost yields has robbed the soil of its fertility. Bore wells dug up indiscriminately by farmers to boost their yields sucked up every drop of water available under the ground. Believed to be the doing of climate change, new kinds of pests now attack the fields and cause large-scale damage. Farmers say they now spend more on every crop than in the previous season, but still produce less. Facing the insurmountable challenge of making farming sustainable, they are killing themselves by the hundreds.
Uncontrolled use of fertilizers and pesticides has resulted in the rise of cancers in the state, forcing farmers who are already broke to borrow large amounts of money for medical treatment. A train that many patients take to reach a hospital in the neighboring Rajasthan is now popularly called the Cancer Express. The state is also in the grip of a major drug crisis as dealers find easy targets in depressed farmers and out-of-work youth.
Vimla Devi, 40, offers worms she found while sifting grain to fish in a canal at Khanauri in Sangrur, Punjab, India. A wide canal network spread across the state helped farmers to achieve good yields during the Green Revolution.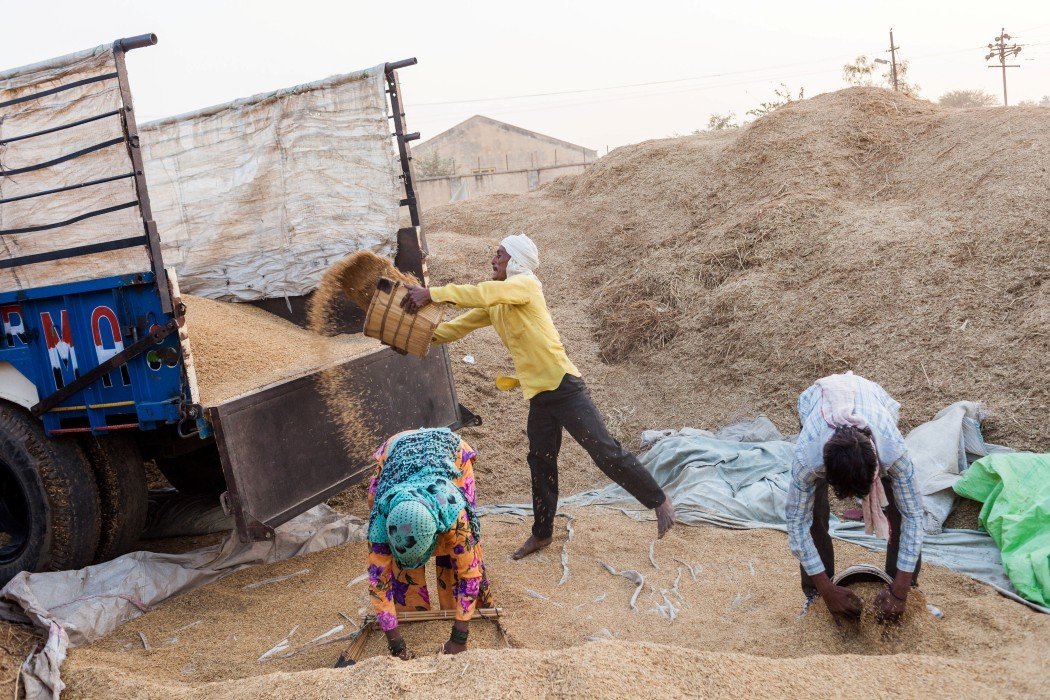 Grain being loaded into a vehicle at the grain market in Khanauri in Sangrur, Punjab, India.
Devotees meditate at the Golden Temple complex, the holiest site of Sikhism, in Amritsar, Punjab, India.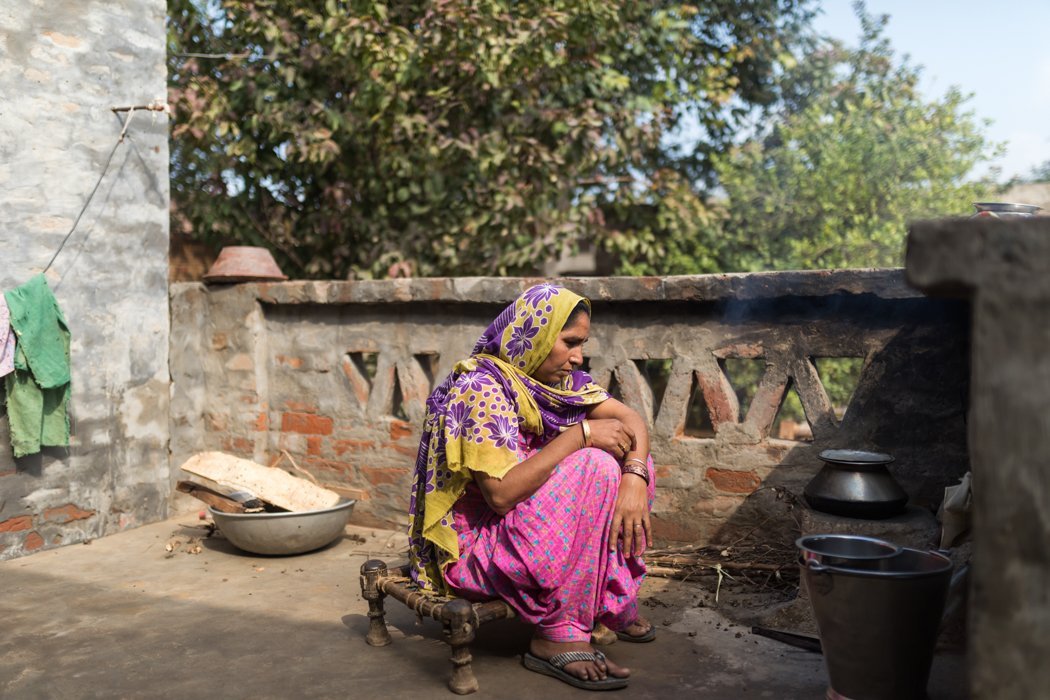 Every time Ranjit Singh, 35, told his wife Karanjeet Kaur, now 37, that he was worried about their Rs. 700,000 (USD 11,000) debt- the result of three years of failed cotton and paddy crops, and threatened to kill himself, she talked him out of it. She ensured sure he was never alone but one day in 2011, he went to the farm and hung himself with his turban. Kaur now works as a farm labour, providing for her daughter (17) and a mentally-challenged son (16) in Kot Dharmu in Mansa, Punjab, India.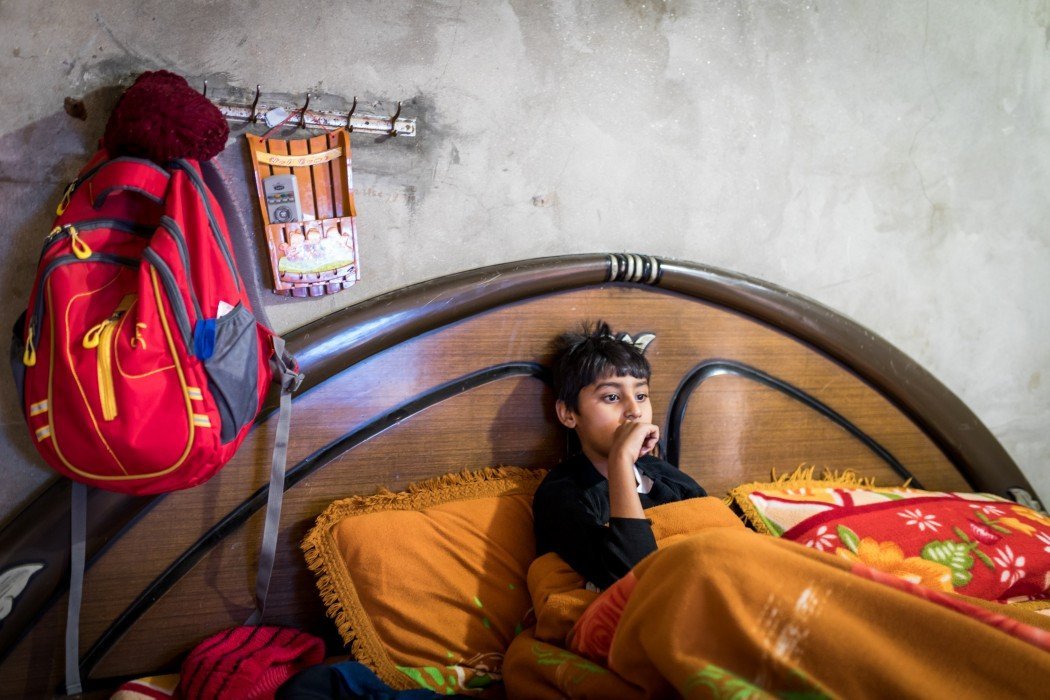 Harshdeep Singh, 10, watches TV on the Republic Day holiday at their home in Tamkot in Mansa, Punjab, India. His father Jagtar Singh, 40, killed himself a year ago, burdened by a Rs. 13, 00,000 (USD 20,300) debt incurred on farming and grandmother's cancer treatment. His mother Gurvinder Kaur, 40, wants him to get a job when he grows up instead of tending to their fields. "What will he do becoming a farmer? There is no future in it," she said.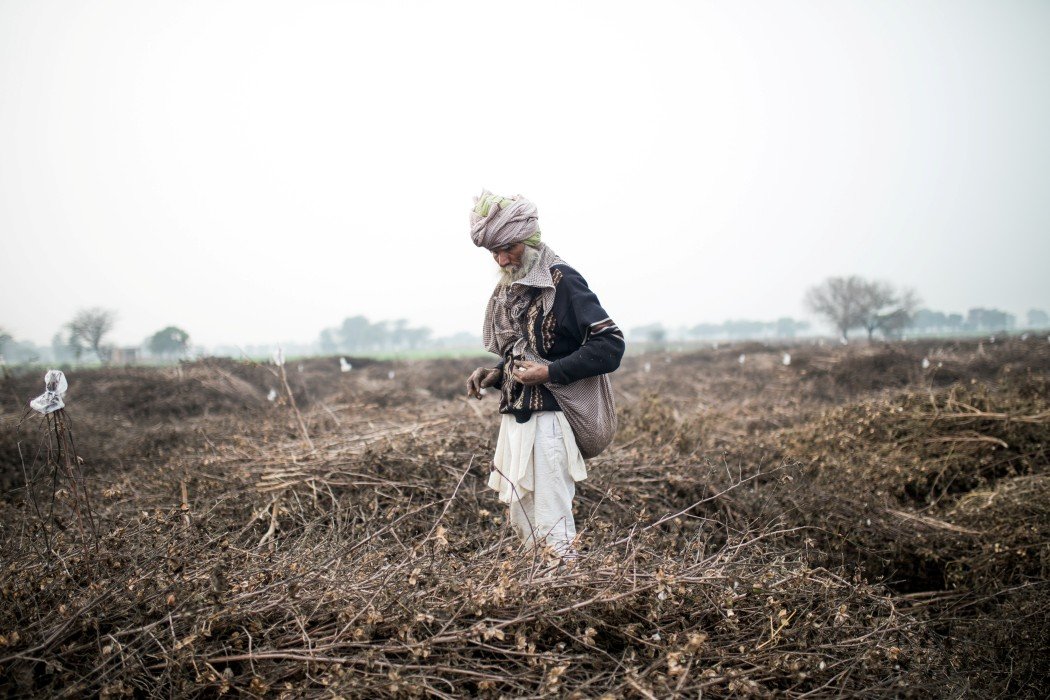 Nachhatar Singh, 68, looks for leftover cotton from stalks destined to be sent to a bio-fuel plant in Banawala in Mansa, Punjab, India. Singh, who works as a farm worker throughout the year, manages to earn Rs. 150 (USD 2.3) a day with the scavenged cotton.
A dance party organized at the wedding of Gursevak Singh, 25, and Ramandeep Kaur, 22, at Makha in Mansa, Punjab, India.
Jasveer Singh, 35, sprayed a weedicide on his 2-acre wheat farm at Talwandi Akhliya in Mansa, Punjab, India.
A soldier of India's Border Security Force on the Indian side of the border with Pakistan near Attari in Punjab, India. The British had decided to split Punjab between India and Pakistan during partition in 1947, an event that led to 200,000 to 2,000,000 deaths in the region alone.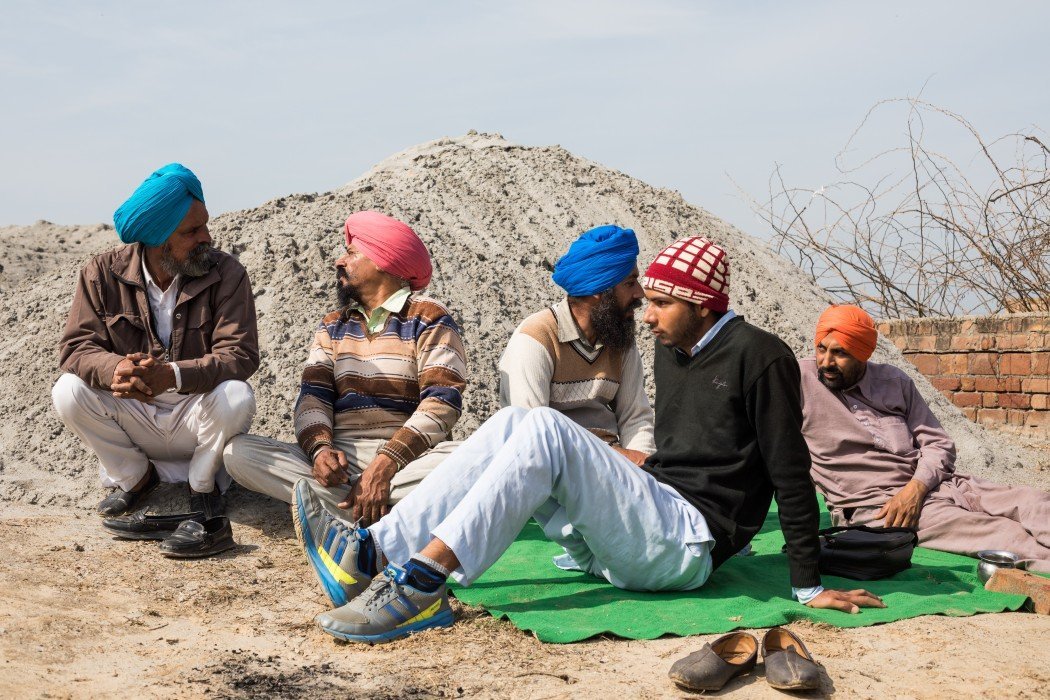 Farmers looking to sell their tractors because of indebtedness wait for buyers at a weekly market for used tractors in Budhlada in Mansa, Punjab, India.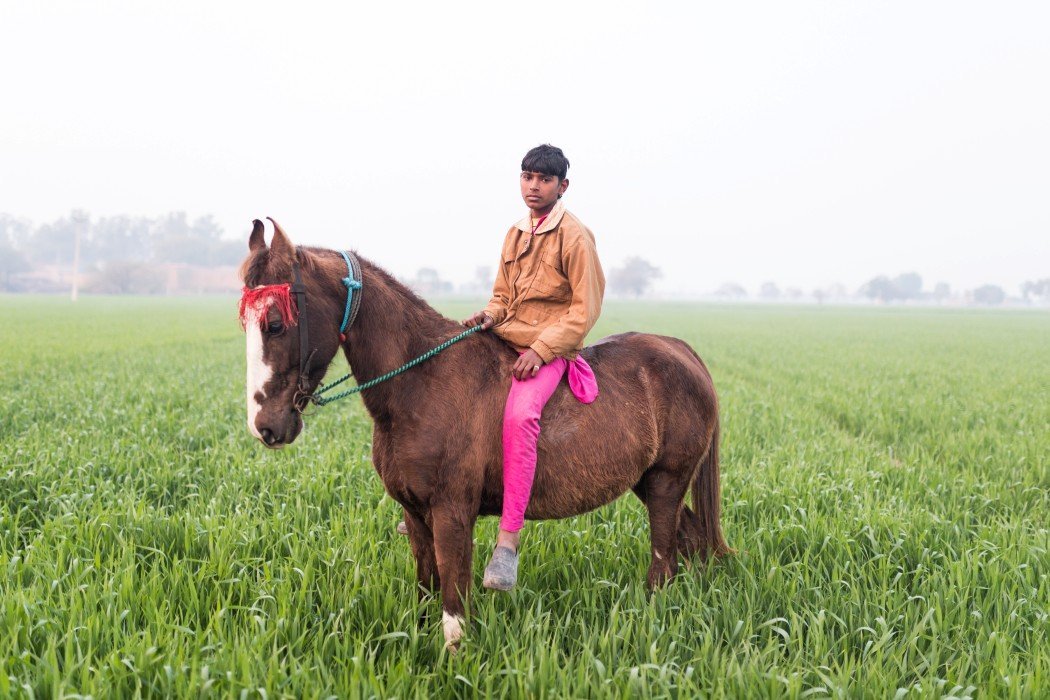 Nanku, 14, assists his father as a Rakha- a horseman who prevents cattle from entering fields in Makha in Mansa, Punjab, India. The family receives no money in return but a fixed amount of grain from every farmer, which they sell in market to make money.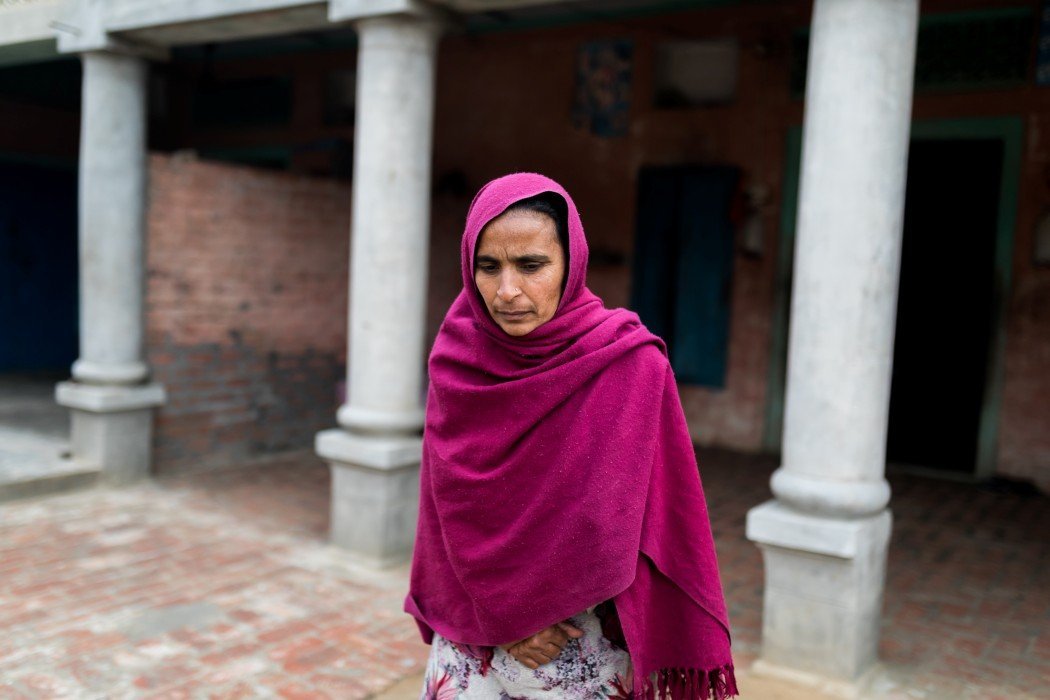 45-year-old Kalwinder Kaur Sidhu's husband Kaldeep Singh killed himself at 45 four years ago, after working up a debt of Rs. 600,000 (USD 9400) on their son's cancer treatment. 13-year-old Karnveer Singh didn't survive despite the family's best efforts. Sidhu, who now suffers from a debilitating back pain, leased out their 4-acre farm in Talwandi Akhliya in Mansa, Punjab, India.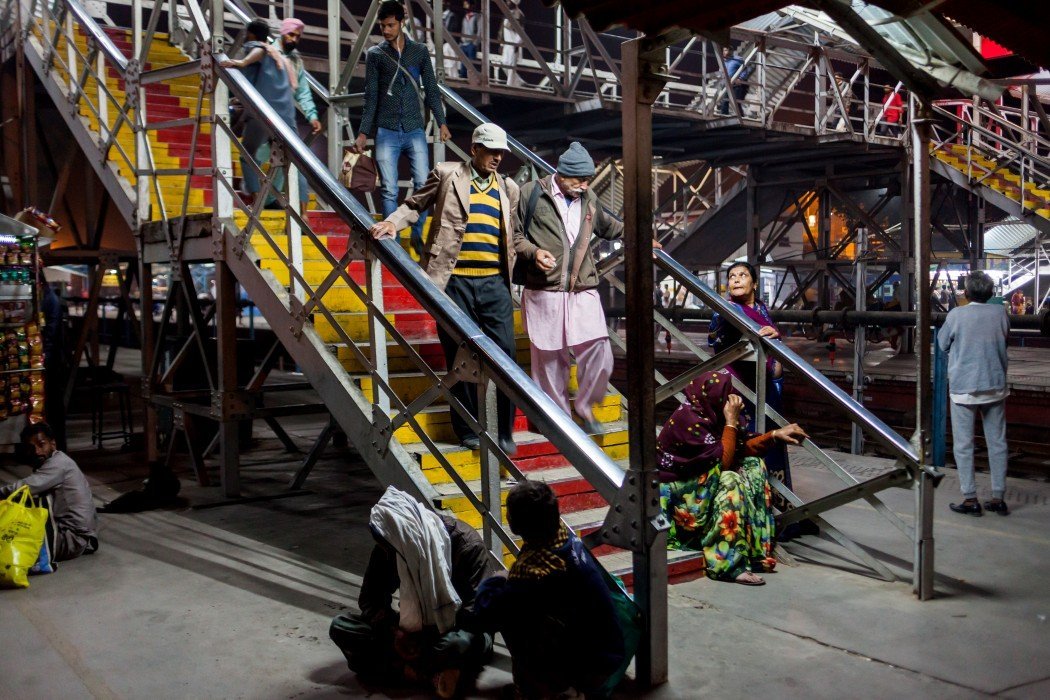 Passengers arrive on the platform to board the train to Bikaner in Rajasthan, infamously called the Cancer Express, at the railway station in Bathinda, Punjab, India. Most of them travel to a hospital in Bikaner, Rajasthan, which offers low-cost cancer treatment for the poor.
A stray cow feeds on a paddy crop near Behniwal in Mansa, Punjab, India. Large scale mechanization of agriculture in the state had led to thousands of cattle being abandoned by farmers and the animals now freely roam around, sometimes in groups of tens, entering fields and damaging crops.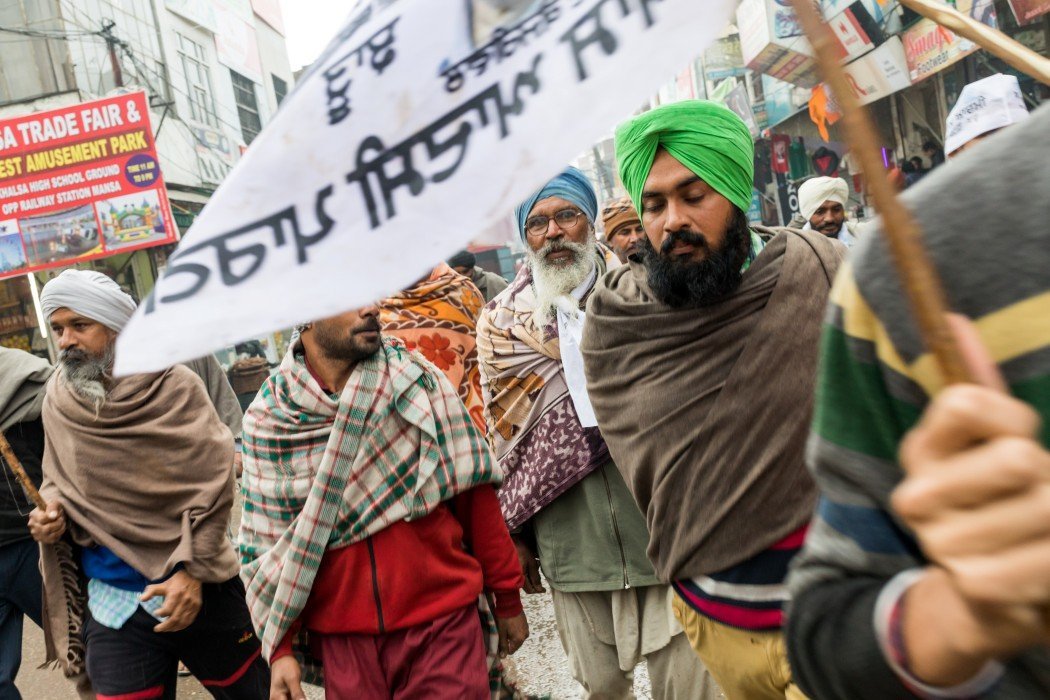 Supporters of a political party walk to a campaign meeting in Mansa, Punjab, India. Farmers' problems were a major issue during the elections to Punjab's state legislature in 2017.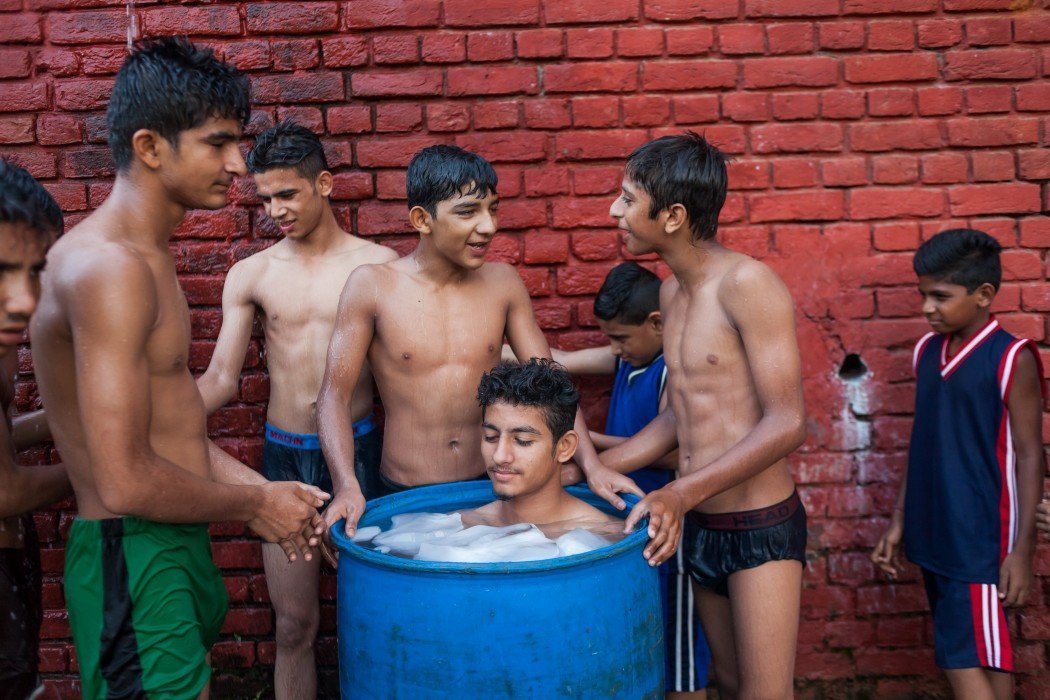 A judoka takes an 'ice bath' in a drum filled with ice and water as others wait for their turn at the end of their day's practice at a judo training centre in Gurdaspur, Punjab, India. Parents hope that apart from the possibility of a government job for excelling in sports, the center keeps them away from taking to drugs, which are now freely available and now major problem in the state.