Deubai Disle, 60, winnows the family's harvest of bajra (pearl millet) at Dislewadi in Beed, Maharashtra. She said the yield from the 12-acre farm was only 1000 kg against the normal yield of 5000 kg. March 22, 2016.
A bed of flowers marked the spot where the body of Jinukula Rajasekhar, 21, was last placed before being cremated in a corner of the family's farm in Shamirpet in Warangal, Telangana. In 2014, Rajasekhar's family could not sow their usual rabi crop (planted during the monsoons, around June-July) of paddy owing to the lack of water and their problems were compunded when the three borewells they tried digging on their land failed to yield any water. They had then invested Rs. 2,00,000 in the cotton crop, which returned only Rs.17,000, pushing them into a total debt of Rs. 5,00,000. On the evening of the 31st of December, 2014, Rajasekhar, the youngest in the family, consumed a combination of alcohol and an insecticide called Profenofos. He wanted to live though, and called his elder brother Raju asking him to save him, but died four days later in the hospital. January 06, 2015.
Farmers rebuilt an illegal well on the bed of Godavari, the second longest river in India, at Gangawadi in Beed, Maharashtra. April 28, 2016.
2014 was another year when the monsoons failed. It was also the year I first met Godishala Bhagyalakshmi aka Bhagya at her farm in Ippaguda in Telangana's Warangal district. The spirited 35-year-old looked up at the clouds that wouldn't rain, sighed, helped tie long strips of cloth around the waists of her daughters Umarani (centre,17) and Rajeshwari (left,13) then tied one herself. They then filled the makeshift pouches with fertilizerand spent the rest of the day carefully applying a small measure of the fertilizer near the roots of every maize plant. Bhagya had been working almost singlehandedly on the farm since 2011, the year her husband Bhikshapati, then 40, worried about a debt of Rs. 4 lakh, killed himself. They were like any other farmer family in the region – they dug a well on their farm, leased more land and went for commercial crops such as cotton, all in the hope of providing for their three children. Together, they had about seven years of education, but they didn't want their children to end up working the fields. The private school they sent their children to was beyond their means, but they hoped good education would allow them to get jobs in the city. I met Bhagya again three years later this March. Umarani gave birth to a son thirteen days ago, and Bhagya beamed whenever the neighbours called him Baahubali. She had not wanted to marry off Umarani so soon, she said, but had to give in to pressure from her parents who wanted to see one of their grandchildren married while they were still around. She had to spend Rs.50 a day on Umarani's care during her pregnancy, not an easy amount to manage when all she got for her four crates of tomatoes at the local market was a mere Rs.60. She threw away the rest by the farm and cattle fed on them. Bhagya doesn't take a day off from work now. When she isn't working on the farm, she finds work at construction sites and on days she can't carry bricks, she helps a neighbour sort chillies for Rs.5. "I should have let Umarani pursue college instead," she said, and is determined to do anything to see that her son and daughter study whatever they wish to. "Anything." July 20, 2014.
Just about a month ago, tomatoes were selling in many Indian cities for anywhere between Rs. 70-80/kg, prompting primetime TV discussions and frontpage headlines on food price inflation. At Bukkacherla, about 15km from the district headquarter of Anantapur in southern Andhra Pradesh, farmers now get about about Rs. 2/kg at the local vegetable market. It is much less than what it costs them to produce and transport tomatoes to the market and in the absence of storage and processing facilities, farmers not wanting to spend anymore on transportation simply throw their produce out in the fields and by the roadside. Qasim Peer, 55, a daily-wage farm worker from the same village, picks up a few tomatoes from one such pile to feed his cows.
Baliram Jadhav, a 40-year-old farmer, waited on the operating table for anesthesia before a surgery to remove kidney stones in Latur, Maharashtra. Jadhav blamed the stones on the water he had been drinking from a borewell, which he said is more alkaline than the water he used to drink from his well, which dried up two years ago as the rains failed. Unable to afford the procedure, Jadhav lived with the pain for two years until he could no longer bear it and finally borrowed Rs. 25,000 from relatives for the expenses. May 03, 2016.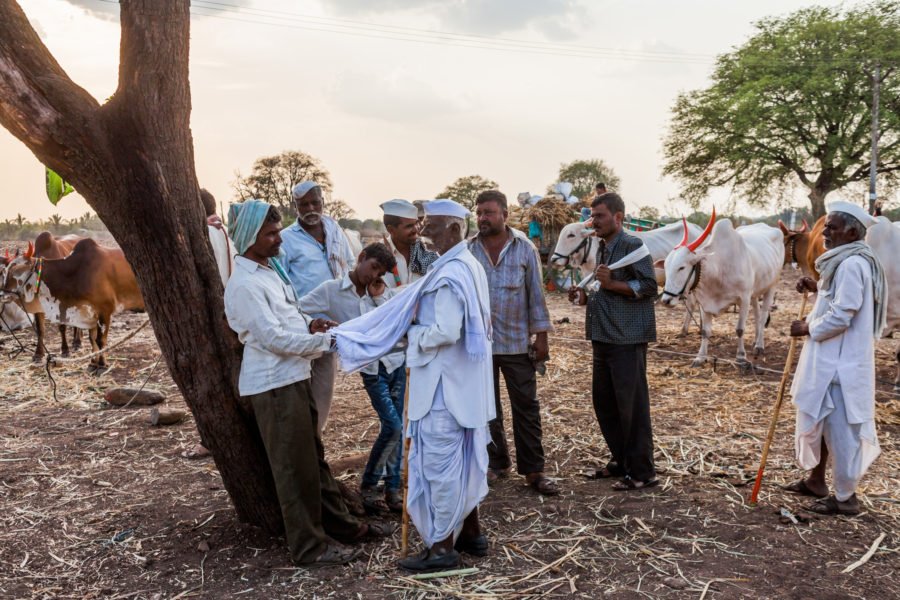 Migrant workers returning from a sugar mill in neighbouring Karnataka, transfer to smaller vehicles at Dharur in Beed, Maharahstra, where they also shop for gifts and essential items before continuing onwards to their respective villages. March 23, 2016.