BMW cars being sold from a tent? Capital, Germany's oldest business publication, had commissioned me in September to shoot photographs for a story on German companies adapting innovative marketing strategies in India. When the brief came in, I found among other things, a BMW showroom in a tent in Rajkot, Gujarat. I went there imagining a typical red and blue patterned desi shamiana with people standing in a queue to buy cars.
What I found was quite the opposite. The mobile showroom was a swanky tent on the lawns of a hotel, complete with wooden flooring, air-conditioning and uniformed waiters offering water to potential customers. Rajkot, I was told, is an affluent town with a taste for expensive cars but the bosses at BMW thought it wasn't a bright idea to open a showroom in Rajkot when there is one 220km away in Ahmedabad. The mobile showroom comes to Rajkot at fixed intervals, usually for a period of fifteen days and once a booking is made, cars are brought in from Ahmedabad for delivery.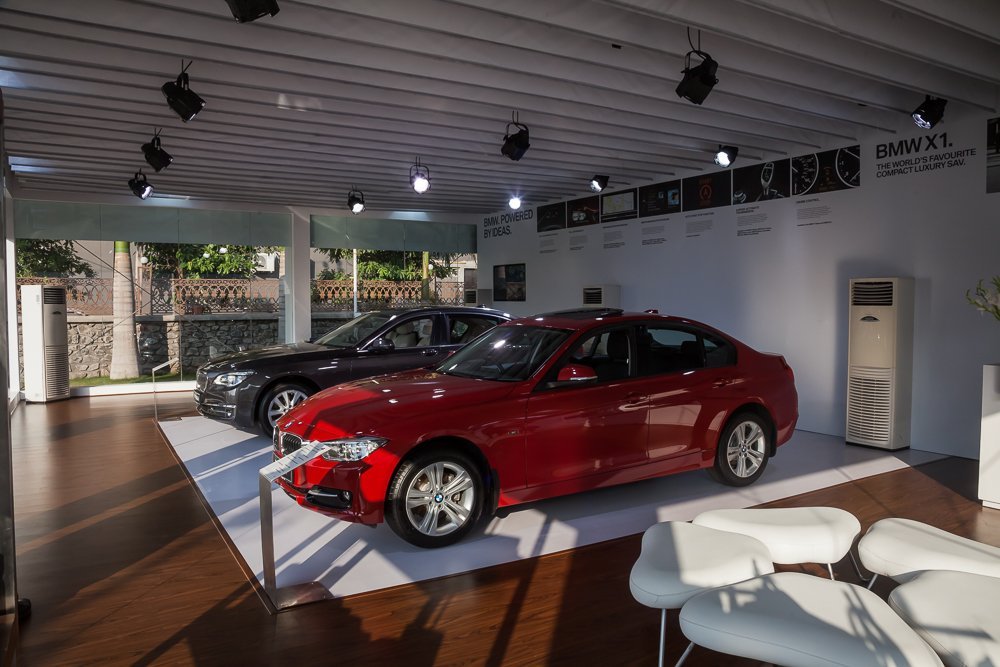 Workers set up a sign outside the hotel in Rajkot.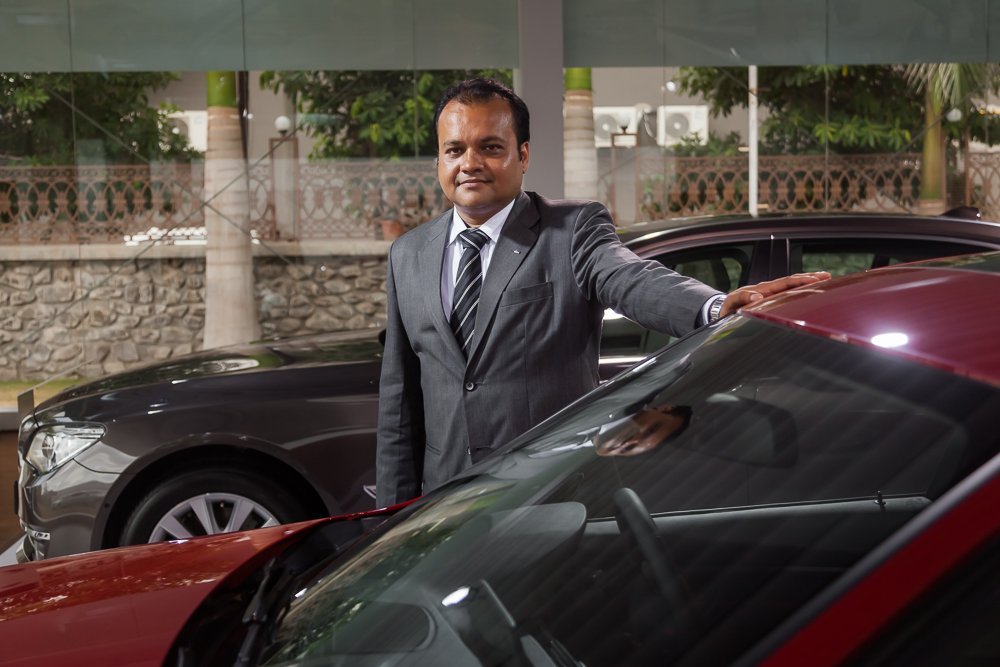 Rajkumar Dasgupta, marketing chief of BMW in Ahmedabad.
I stood in a corner of the showroom and observed the people coming in to check out the cars. Most happened to be youngsters, often still in college, and farmers. I wondered if the mobile showroom was really a good idea and asked an executive if they sell any cars at all given the kind of people that are walking in. He said they never turn anyone away, even if they just got off an auto.
"Many farmers here have sold their lands off for commercial and industrial purposes and made smart investments with the money. They now want finer things in life though they still dress up the way they did when they were farming." He went on tell me how farmers would walk in and ask for a specific model without even looking at other models on display. "They know what they want. Some say they will never go for a Mercedes or Audi because they are too common these days."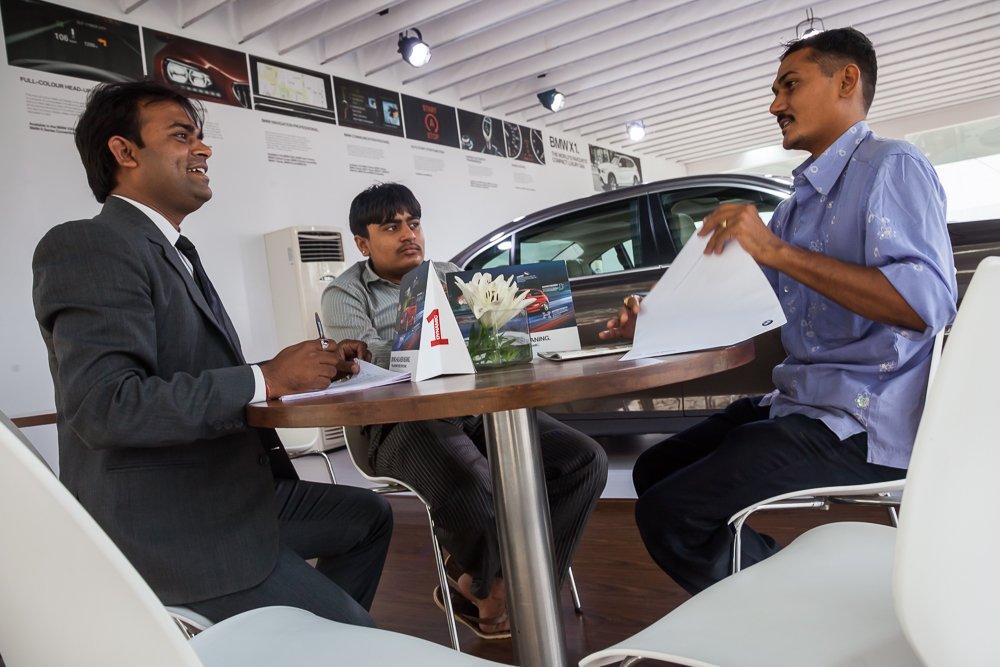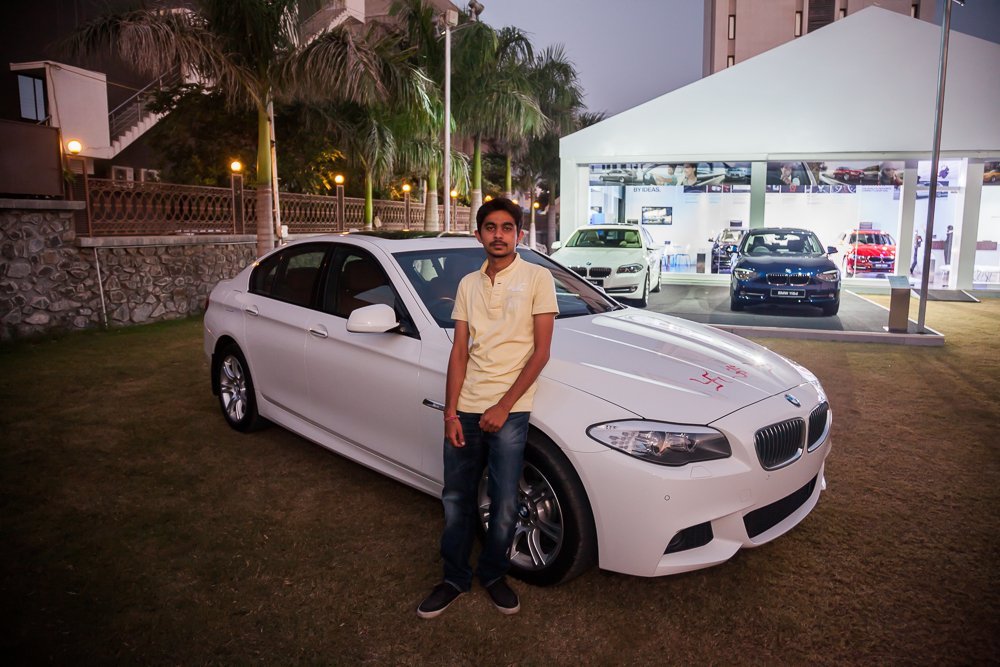 21-year-old Kuber, a third year engineering student, with his brand new BMW worth 65 lakh rupees. He said his brother owns a Jaguar and he wanted a powerful car too.